Police 'shoot dead eight' in Assam election violence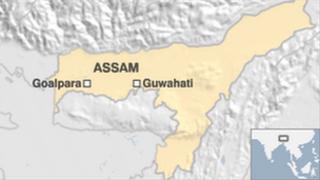 Police in the Indian state of Assam say they have shot dead at least eight people in violence during local polls.
Officials say the incident in Goalpara district, around 120 km (75 miles) from state capital Guwahati, was sparked when a security official was stabbed, prompting police to open fire.
A curfew has been imposed in some parts of the district.
Members of the Rabha tribe had been protesting against the polls, saying they infringed on tribal authority.
A leader of the Rabha tribe said he held the government responsible for the deaths, the Reuters news agency reports.
Officials had reported attacks on polling staff before the shootings.
Rabha tribespeople had declared a "people's curfew" to prevent state polling personnel from reaching the voting booths.
Assam has been plagued by ethnic clashes and separatist violence in recent years.