Assam's Tarun Gogoi takes blame for poll violence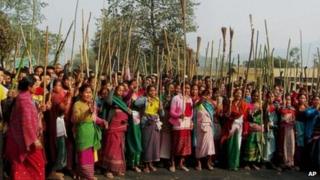 The chief minister of India's Assam state says he accepts responsibility for violence during local polls that killed 19 people.
Tarun Gogoi said security preparations for the elections in Goalpara district could have been better.
Thirteen people were killed when police fired on protestors. Another six were killed in clashes between two groups of protestors.
A curfew imposed in some parts of Goalpara is in its third day.
The violence erupted on Tuesday when members of the Rabha tribe protested against the village council polls, saying they infringed on tribal authority.
Three hundred houses had been burnt down, Mr Gogoi said.
"I take full responsibility for not being able to provide security in the area," he was quoted as saying by the AFP news agency.
Assam has been plagued by ethnic clashes and separatist violence in recent years.
Nearly 100 people died in clashes between indigenous Bodo tribes and Muslim settlers in July and August last year.