Finmeccanica helicopter deal payments frozen by India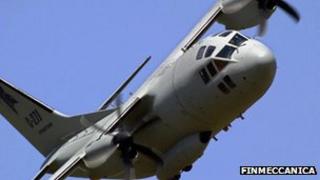 India's defence ministry says it is freezing payments to Italian aerospace and defence firm Finmeccanica for a helicopter deal over allegations of corruption.
India has ordered an inquiry into the $752m (£481m) 12-helicopter deal after the firm's chief Giuseppe Orsi was arrested in Milan on Tuesday.
The Italian authorities have been investigating him for bribery and embezzlement for several months.
Mr Orsi has denied any wrongdoing.
Payments will be frozen until India's Central Bureau of Investigation (CBI) has completed an investigation, a defence ministry statement said.
On Wednesday Indian Defence Minister AK Antony said the government would blacklist and take legal action against any company found to have paid a bribe.
"Nobody will be spared. If a company violates the conditions, they are liable for criminal action," he said.
Former Indian Air Force chief SP Tyagi has denied allegations that he or any of his relatives were paid bribes to secure the deal. Italian investigators have named Mr Tyagi in a preliminary inquiry submitted to an Italian court.
Italy has also issued arrest warrants for two people living in Switzerland. The head of Finmeccanica's AgustaWestland business, Bruno Spagnolini, has been placed under house arrest.
India signed the agreement in February 2010 to purchase a dozen three-engine AW-101 helicopters from the Italian company for an elite squadron of the Indian Air Force which ferries around the president, the prime minister and other VIPs.
Reports say that three of the 12 helicopters have already been delivered to India and the rest are expected to arrive by the middle of 2014.
The ruling Congress party has been hit by a series of damaging corruption scandals recently and the opposition has made regular calls for Prime Minister Manmohan Singh to resign.
For Italy, too, this is the latest in a string of corporate scandals. The Italian government owns about 30% of the company.