India's Kumbh Mela: Tight security for key festival day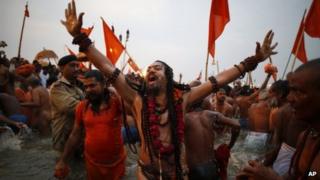 Security has been tightened for another peak day at India's Kumbh Mela festival, days after a stampede killed 36 pilgrims at a railway station.
Millions of Hindu ascetics and pilgrims are taking a dip at Sangam, the confluence of the Ganges and Yamuna rivers in Allahabad city.
At least 10 million pilgrims are due to bathe on Friday, one of the six main bathing days at the festival.
The festival expects 100 million bathers in total across its 55 days.
Kumbh Mela, which is held every 12 years, is billed as the world's biggest human gathering. Last Sunday, the main day of bathing, saw 30 million pilgrims taking a dip at Sangam.
The present festival is also a Maha Kumbh Mela, which comes round only once every 144 years.
Hindus believe a festival dip at Sangam will cleanse sins and help bring salvation.
Toned down
At dawn on Friday - which is the Hindu festival of Basant Panchami - holy men (sadhus) from various Hindu monastic orders arrived at Sangam to bathe.
In the past, they have arrived in large and noisy processions on the main bathing days, but on Friday the festivities were toned down as a mark of respect to those who died in last Sunday's stampede.
The sadhus, many of them naked, dreadlocked and smeared in ash, ran to the river amid heavy security.
There are also thousands of poor pilgrims living under the open skies in cold weather at the sprawling festival grounds.
Meanwhile, reports said one pilgrim was killed overnight in a fire which broke out in the tents put up by the Mahanirvani Akhara (sect).
Officials said five pilgrims were injured and about 30 tents were destroyed in the fire.
Thousands of policemen, along with paramilitary forces and commandos, have been deployed to ensure security in the mela ground.
Thousands of volunteers have also been helping with crowd control.
Authorities have been preparing for the festival for months and the mudflats of the delta have been transformed into a tent city.
The 14 hospitals at the Mela grounds have already treated more than 150,000 pilgrims since the opening. A "lost-and-found" centre has also reunited 40,000 people.
The most auspicious day at the Kumbh Mela was last Sunday when some 30 million pilgrims took part in the festival.
On Monday, the head of the festival organising committee Azam Khan resigned in response to the stampede at the main railway station in Allahabad, the victims of which were returning pilgrims.
The Kumbh Mela has its origins in Hindu mythology.
Many believe that when gods and demons fought over a pitcher of nectar, a few drops fell in the cities of Allahabad, Nasik, Ujjain and Haridwar - the four places where the Kumbh festival has been held for centuries.