Kashmir border: India kills Pakistani soldier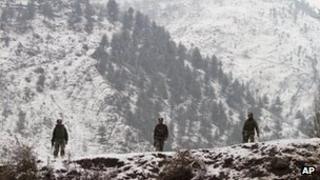 A Pakistani soldier who strayed over the border in the disputed territory of Kashmir has been killed.
The Indian army say the soldier was killed in a gun battle on Thursday. Pakistan disputes this, saying the soldier had identified himself before being killed.
Last month several deadly cross-border attacks plunged the neighbours into the worst crisis in relations in years.
Claimed by both countries, Kashmir has been a flashpoint for over 60 years.
Exchanges in the area are not uncommon but rarely result in fatalities.
Conflicting accounts
The Indian army said the incident happened in the Nowshera sector. Pakistani army sources had also reported firing along the line of control (LoC) in the Kotli area but it is unclear if that was related.
"We detected some suspicious movement yesterday near the LoC inside our territory and the challengers from our side fired and in the ensuing firefight he was killed," army spokesman Lieutenant Colonel Rajesh Kalia is quoted as saying by the AFP news agency.
"At that time we did not know he was a Pakistani soldier. We killed an infiltrator," he added. Two Indian soldiers were wounded, the Indian army said.
The Pakistani army gave a different version of events, saying a soldier had inadvertently strayed over the border after losing his way and had been questioned by Indian troops.
"We condemn such an inhuman and brutal act of killing of our soldier after he had identified himself and explained his position," a Pakistani army statement said.
The Pakistani army later made contact with the Indian authorities to arrange the return of the soldier's body.
"The dead body was returned to Pakistan Army personnel in the same sector [on Friday] evening with military respects," the Indian army said.
The soldier will be buried on Saturday in his native town in Rawalpindi district with full military honours, according to Pakistani officials.
Tense exchanges
Five soldiers - three Pakistani and two Indian - were killed in last month's hostile exchanges between troops stationed along the Line of Control, which divides the disputed region.
Relations between the sides deteriorated so sharply that there were fears that a fledgling peace process under way since February last year could unravel.
Tentative steps had been made towards restoring relations after the Mumbai attacks of 2008, which were blamed on militants based in Pakistan.
Although both sides denied provoking the clashes along the border, eventually both India and Pakistan agreed to de-escalate tensions on 16 January.
Cross-border trade and transport links, which had been suspended for a few weeks in the wake of the tensions, also recently resumed.
Thousands of people have been killed in Indian-administered Kashmir since an armed revolt against Indian rule erupted in 1989. There has been a ceasefire in place since late 2003.
Late last year, India and Pakistan signed an agreement to ease visa restrictions on travel for some citizens.