Veerappan gang on death row: India court delays hangings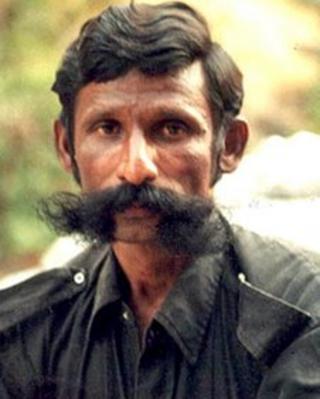 India's Supreme Court has put on hold for three days the execution of four men convicted of being associates of notorious bandit Veerappan.
The men have been on death row since 2004. On 13 February, India's president rejected their clemency pleas.
The four were found guilty of a 1993 blast which killed 22 policemen. They have always maintained their innocence.
Veerappan was considered India's most ruthless and daring bandit until he was killed by police in 2004.
He was accused of more than 100 murders, as well as kidnapping, smuggling and poaching.
The four men facing execution for being part of his gang - named as Gnanaprakash, Simon, "Meesai" Madaian and Pilavendran - are held at Belgaum prison in Karnataka.
On Monday, the Supreme Court said it would hear their case on Wednesday, the Press Trust of India (PTI) news agency reported.
"In the meantime, the execution of death sentence of four convicts shall remain stayed," said a panel including Chief Justice Altamas Kabir, Justice AR Dave and Justice Vikramajit Sen.
There had been reports over the weekend that the men would be hanged on Sunday, but jail officials denied any preparations had been done.
The convicts have been in prison for more than 19 years and their lawyers say "keeping them on death row for over nine years violates their rights".
More than 120 people were tried in connection with the 1993 landmine blast at Palar in Karnataka. Most were acquitted.
The four men facing execution were initially given life terms in jail. When they appealed, the Supreme Court took the rare decision to recommend they be given death sentences.
President Pranab Mukherjee's dismissal of their mercy petitions came just days after he rejected clemency for a Kashmiri man, Afzal Guru.
Guru was hanged in secret on 9 February for plotting a deadly attack on India's parliament in 2001.
Executions are rare in India - Guru's was only the second since 2004. Before him Mohammed Ajmal Qasab, the sole surviving attacker from the 2008 Mumbai attack, was executed in November.