Kumbh Mela festival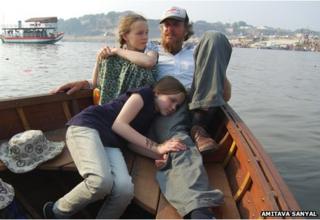 What is a farm owner from Australia doing with a boat at the Kumbh Mela festival in India?
Andrew Turner has built the boat and is ferrying pilgrims for free at Sangam, the confluence of the Ganges and Yamuna rivers, where the festival is held.
Millions of people bathe at Sangam in what is billed as the world's biggest religious gathering. Hundreds of people also take boat rides every day into the middle of the waters, where the two rivers meet.
The local boatmen, called mallahs, were so bemused by Mr Turner's idea that they allowed him to ferry people for free in a very competitive market crowded by hundreds of oared and motor-powered boats of various sizes. Charges for an hour's outing on a boat can go up to $60 (£39).
'Magical'
An Indian family of two who went on Mr Turner's 18ft (5.4m) oared boat called their experience "amazing" and "magical".
Mr Turner has cherished his dream of ferrying pilgrims at Sangam since 1989, when as a 21-year-old backpacker in India he visited that year's Kumbh festival. Later, he even studied boat making in the US.
He persisted with the idea after he got married to Virginia 'Ginny' Cameron. But he missed his chance of coming to the 2001 Kumbh because his twin daughters had just been born.
So after years of planning, Mr Turner left his 90-acre avocado and blueberry farm in Comboyne, north of Sydney, last October and arrived in Varanasi, near Allahabad, with his family.
Why did he want to do it?
"I have a huge faith in humanity that I gained the last time I was in India. Travelling on my own, I found myself in some ridiculous situations, sometimes life-threatening.
"And every time it was an Indian who helped me out. So we wanted to come to India and give back. I wanted the children to experience India," says Mr Turner, 45. The four children, aged 11 to 20, are attending Hindi language classes in Allahabad.
'Great education'
The Turners first stayed on a farm outside Varanasi but found it difficult to procure materials to build the boat and get going without any knowledge of the local language, Hindi.
So a month later - a couple of months before Kumbh 2013 began - they shifted to the larger city of Allahabad with not much more than "that trust in humanity".
Again, he says, a few kind strangers found them a place where they could stay and build the boat.
With the help of some friends and Rye, Mr Turner's eldest son who crafts classical guitars back home, the boat started to shape up.
Mr Turner's hosts, Ivan and Purnima Lamech, nicknamed him "Noah" after the Biblical boat builder whose father, too, was called Lamech.
The boat was ready by the third week of January.
Mr Turner named the boat Karuna (compassion) and on 24 January it made its way through Allahabad on a garlanded tractor led by a brass band.
But it had to wait another 11 days in a car park before the official paperwork was completed and it was put to the waters.
Ever since, Mr Turner, his son and friends have taken turns every day to ferry passengers.
He plans to carry on till the end of February, when he wants to sell the boat, recover some of his costs of more than $10,000 (£6,539), and fly back home.
What did they gain from the trip?
"It has been a great education for the children. My two sons learned how to build a boat. And despite the pollution, I like the fact that the river [Ganges] is being honoured at the festival," says Ms Cameron.
Mr Turner adds: "We have been able to show to our children that in life no matter what you do, if you stick to your guns, you'll be able to do what you want. It's a huge learning."