India launches seven satellites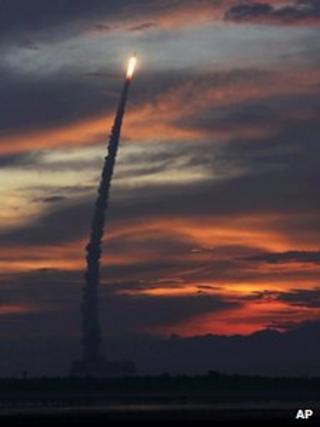 India has put into orbit seven satellites, including one built with France to study the world's oceans.
President Pranab Mukherjee watched the rocket carrying the seven satellites take off from Sriharikota launch centre in southern Andhra Pradesh state.
The six other satellites include two each from Canada and Austria and one each from Denmark and Britain.
India is emerging as a major player in the multi-billion dollar space market. It plans up to 10 missions this year.
It has also announced plans for an unmanned voyage to Mars.
The satellite built in collaboration with France will carry two climate tools developed for analysing ocean current and sea surface heights by the French space agency CNES, reports say.
This is the 23rd mission for India's Polar Satellite Launch Vehicle (PSLV) - a seven-storey-high, 230 tonne rocket.
The PSLV has so far successfully launched more than 50 satellites into space.
In 2008 the Indian Space Research Organisation successfully launched 10 satellites in a single mission.