India announces more new trains in railway budget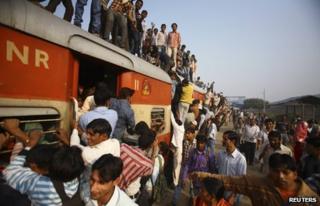 India's government has announced over 100 new trains in its railway budget but no changes in passenger charges.
Last month, the government raised passenger fares because it said the network was facing a loss.
India's state-owned railway operates more than 12,000 passenger trains and carries some 18 million passengers daily.
Indian Railways is also one of the world's largest employers, with more than 1.4 million people working for it.
Railway minister Pawan Kumar Bansal announced 103 new trains, including 67 new express trains.
He said there were no plans to further raise fares as they "were revised only in January".
Mr Bansal admitted the mounting losses had "resulted in deterioration of [passenger] services".
Correspondents say the government did not revise fares despite mounting losses because it faces general elections next year.
Among other highlights of the budget:
Eliminating over 10,000 unmanned level crossings to improve safety on the network. A 2012 official report revealed that nearly 15,000 people died every year crossing tracks - a figure that the government described as a "massacre".
Improved e-ticketing and free wi-fi facilities on selected trains.
Some 500km (310 miles) of new track to be built.
More than 100 stations to be upgraded.
The railway budget came two days ahead of the annual budget, which is widely expected to be an austere one.