India announces rise in spending to help spur growth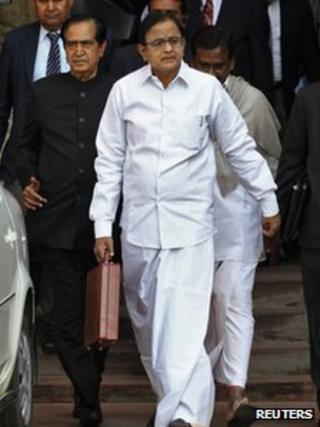 India's finance minister has announced an unexpected rise in public spending for the next financial year in an attempt to revive its sluggish economy.
However, he vowed to cut the country's deficit as he unveiled new taxes on the super rich as well as large businesses.
P Chidambaram said that increased foreign investment was key to reviving growth in India's economy.
The budget comes at a time when India's growth rate has slowed, hurt by both global and domestic factors.
Asia's third-largest economy is projected to grow by 5% in the current financial year, far below the 7.6% growth projected in last year's budget.
In his budget speech, Mr Chidambaram said that while restoring India's potential growth remained a challenge, "there is no room for gloom and pessimism".
He argued that China and Indonesia were the only Asian nations that were growing faster than India, and that achieving a high growth rate was "not beyond India's capacity".
"We have done it and we will do it again," he said.
'Numbers look doable'
One of the key concerns among many analysts has been India's ballooning fiscal and current account deficits.
The growing deficits, fuelled by the government subsidies on essential items such as food and fuel, have triggered warnings of a downgrade of the country's credit rating.
As a result, many analysts had expected the government to announce a cut in expenditure in the current budget.
However, the finance minister announced a 16% rise in public spending, saying he had "retrieved some economic space" thanks to recent austerity measures, including a cut in subsidies.
Mr Chidambaram added that while the worsening deficits were a "major worry", the government would try to bring them under control by raising its revenues further.
"Fiscal consolidation cannot be effective only by cutting expenditure," he said.
He pledged to cut India's public deficit to 4.6% of the GDP in the next financial year beginning 1 April, from 5.2% in the current financial year.
Among the new revenue sources, Mr Chidambaram announced an additional surcharge on domestic firms with an income of more than 100m Indian rupees ($1.8m; £1.2m).
Meanwhile, individuals with taxable income of more than 10m rupees will also pay an additional tax of 10%.
Analysts said that despite the rise in spending, the government was likely to achieve its deficit target.
"This is a big picture budget making the best out of a bad situation," aid Sujan Hajra, chief economist at Anand Rathi, Mumbai-based securities firm.
"The direct priorities seem to be reining in the fiscal deficit and avoiding populist measures. The fiscal deficit numbers look doable."
Among other measures announced are:
A new bank for women - the first of its kind in India
Nearly $2bn allocated to combating malnutrition, a move which many believe will help the governing Congress party in general elections next year
Increased import duty on high-end luxury motor vehicles and yachts.