Children killed in India bus crash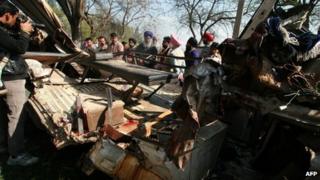 Indian police say at least 11 children have died after their school bus crashed into a truck in the northern state of Punjab.
The incident took place in the Gahir area of Jalandhar district early on Monday. Police said the school bus collided head-on with a truck on a highway.
At least 10 other children were admitted to hospital, police said.
More than 110,000 people die each year in accidents on India's roads.
"Seven students died on the spot, four died in hospital. The driver of the bus also died," local police official Rajinder Singh told the NDTV news channel.
Last March at least 16 children died and 18 others were injured when their school bus crashed into a canal in the state of Andhra Pradesh.