India auditors allege corruption in farm loan waivers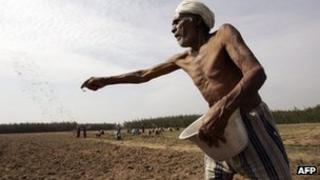 Indian auditors have alleged corruption in a flagship government scheme to write off debts of poor farmers, Indian media reports say.
In a report tabled in the parliament on Tuesday, the Comptroller and Auditor General (CAG) said it found lapses in 22% cases where loans were written off.
Waivers were given to many ineligible people while those eligible were not considered, the CAG report said.
The $1.8bn (£1.2bn) debt relief scheme was announced in February 2008.
Although the CAG report has not been officially released yet, its contents have been extensively leaked to the Indian media.
Reports said the CAG audited accounts of 90,000 farmers between April 2011 and March 2012 and found serious irregularities.
The auditors said that guidelines were often violated while writing off loans and accused bank officials of siphoning off funds meant for the scheme.
The scheme was announced to cover nearly 30 million farmers across the country and was seen by some as a last-ditch effort to head off an agricultural crisis in India.
Some 10,000 farmers are estimated to commit suicide in India every year, many because they cannot pay debts.
Correspondents say the scheme, together with some other populist measures announced by the Congress party-led government, helped the coalition return to power in the 2009 elections.