India Hyderabad blasts toll rises to 17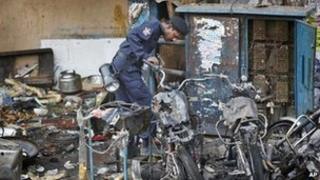 The number of people killed by February's twin explosions in the Indian city of Hyderabad has risen to 17, with the death of an injured victim.
Amrutha Ravi, 25, died after a heart attack in hospital, reports say.
No group has yet said it carried out the 21 February attack, which injured more than 100 people.
Prime Minister Manmohan Singh said it was a "dastardly attack" and that the "guilty will not go unpunished".
The bombs had been planted on bicycles 150m (500ft) apart near a crowded fruit market.
It was the first major bomb attack in India since a September 2011 blast outside Delhi's High Court killed 13 people.