Jarawas: India to reopen road through Andaman tribe's area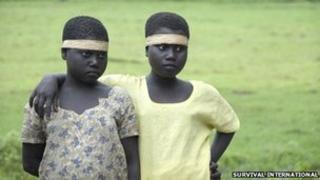 India's Supreme Court has ordered the reopening to traffic of a controversial road that passes through a tribal reserve in the Andamans archipelago.
The archipelago administration said the Andaman trunk road would open as soon as they receive the court order.
The road cuts through the 1,000 sq km forest reserve, which is home to the aboriginal Jarawa tribespeople.
Campaigners say opening the road will threaten the survival of the tribe.
The Jarawas - essentially hunter-gatherers - came to the Andamans 60,000 years ago. Today, they number only 400.
In January, the Supreme Court had ordered the road closed to traffic.
The Andaman trunk road, built in the 1970s, is the only road connecting 400 villages from Baratang to Diglipur and many say it is essential to keep it open.
But campaign groups like Survival International say the road allows tourists and settlers to come into the Jarawa territory which puts them at risk of disease as they have little immunity.
There have been demands to close the road, and stop "intruders from trespassing" on tribespeople's land.
Verge of extinction
The Jarawas are just one of several indigenous tribal groups living in the Indian Andaman and Nicobar islands in the Bay of Bengal.
Short, with dark skin and curly hair, they resemble African bushmen in appearance. Today, however, the tribe is on the verge of extinction.
Tribal rights activists say immediate measures must be taken to prevent any further decline in their numbers.