Major drugs haul in India's Punjab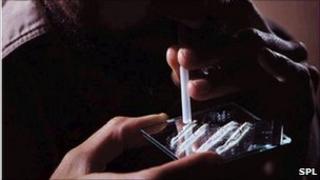 Police in India's Punjab state say they have seized 26kg (57lbs) of heroin and arrested two men, including a Canada-based Indian, media reports say.
Police said the seized drugs had a street value of 1.3bn rupees ($24m; £16m) in the international market, reports said.
The drugs were recovered from an apartment in Mohali town.
Most of the world's heroin comes from Afghanistan and its main route into India is through Punjab, via Pakistan.
A Canada-based Indian man and his "accomplice" were held from the apartment in Mohali where the drugs were found during a raid on Friday morning, media reports quoting police said.
Senior police official HS Mann told Indo-Asian News Service that the Canada-based man was "the main kingpin and they used to smuggle the drugs to the various countries of Europe and North America".
Reports said the police also recovered weapons from their possession.
There have been a number of major drug seizures in Punjab, which itself has had a drugs problem for many years.
Two years ago a study by a university in Punjab suggested that as much as 70% of young Punjabi men were addicted to drugs or alcohol.