Profile: Delhi rape accused Ram Singh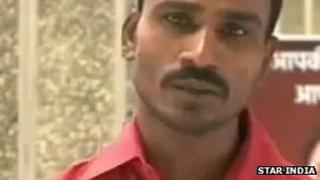 Ram Singh, the alleged driver of the bus on which a 23-year-old student was brutally gang raped by six men last December, is remembered by his neighbours for being a troublemaker who frequently got involved in drunken brawls.
Like many migrants, his family came to Delhi from their village in Rajasthan more than 20 years ago in search of a better life.
The third of five brothers, Ram Singh was enrolled into the neighbourhood government school but dropped out while still at primary level .
In Ravi Dass colony, an urban slum in south Delhi where most residents are daily wage labourers and street vendors, the 33-year-old lived in a small two-room shanty.
Narrow lanes, rarely more than two feet wide, lead to the tiny homes that sit cheek-by-jowl in this overcrowded district.
Most homes here, including that of Ram Singh's, have no toilets and the amenities can at best be described as basic.
He was the first person to be arrested for the 16 December gang rape that shocked India. He was charged with abduction, rape and murder - allegations that he denied.
His alleged suicide in the high-security Tihar jail in the Indian capital has been described as a "major lapse" by Home Minister Sushil Kumar Shinde.
'Not suicide'
Four other accused in the case, including Ram Singh's brother Mukesh, are at the same jail.
Ram Singh's lawyer, VK Anand, has questioned the police version that his client killed himself.
"There were no circumstances to suggest that he would commit suicide. He was happy with the trial, it was going on smoothly," Mr Anand said.
His father, Mangelal Singh, also insists that Ram Singh would not have been able to orchestrate a suicide because he only had the effective use of one arm- Ram Singh had damaged his right arm in a driving accident in 2009.
"It was not suicide," he is quoted as saying and demanded that the Central Bureau of Investigation inquire into the death.
But some of his relatives say Ram Singh was a strong man who, even after the 2009 accident, did not quit driving because a rod had been inserted into the damaged arm.
A cousin who lives in the same district said he "was fond of music and would often play very loud music at home".
A neighbour said: ''Ram Singh would often be found drunk and involved in brawls, though we never thought he could commit a crime as heinous as rape.''
About three years ago, Singh had appeared on a reality television show in a compensation dispute with a bus owner, arbitrated by Kiran Bedi, a former police officer who had been the chief of Tihar Jail.
Singh was demanding disability compensation from the bus owner after his accident, but the bus owner instead accused Singh of drink driving.
"He was not an ordinary man. He understood things well. He could go to any extent to get his demands fulfilled," Ms Bedi said.
"Despite damaging his employer's vehicle, he had brought him to my programme to seek compensation. He understood what he was doing. He had the courage to do a lot for himself."