Olympic boxer questioned over Punjab drug seizure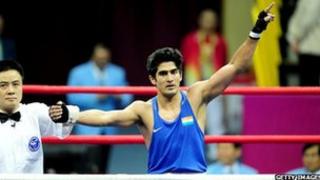 Police in India's Punjab state have questioned Olympics medal winning boxer Vijender Singh in connection with a major drug seizure last week.
A total of 26kg (57lbs) of heroin with a street value of 1.3bn rupees ($24m; £16m) was seized from a flat in Mohali town on Friday.
Six men, including a Canadian-based Indian, have been held.
One of the arrested men allegedly said he sold drugs to the boxer, a charge which Mr Singh has denied.
The police said the boxer's car was also recovered from near the house of the Canadian-based man, who is being described as the main suspect.
The Punjab police said that Mr Singh, who also holds a job as a policeman in the neighbouring Haryana state, was questioned for over two hours on Monday evening.
Media reports say that Mr Singh has denied knowing any of the men held in connection with the case.
However, according to reports, he refused to give samples of his blood and hair for forensic testing as part of the probe.
Most of the world's heroin comes from Afghanistan and its main route into India is through Punjab, via Pakistan.
There have been a number of major drug seizures in Punjab, which itself has had a drugs problem for many years.
Two years ago a study by a university in Punjab suggested that as much as 70% of young Punjabi men were addicted to drugs or alcohol.