India: Six killed in Bangalore factory fire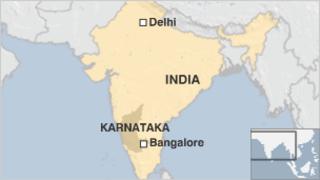 A deadly fire in a factory outside the southern Indian city of Bangalore has killed six people, police said.
The fire broke out early on Monday in a neighbouring timber yard and spread to the factory where the workers were asleep inside.
The cause of the fire is unknown and it took several hours for the fire brigade to bring the blaze under control.
Five of the bodies were found close to each other inside the factory while another victim was found nearby.
The dead were all workers in a private car seat production factory and were trapped inside the building when the fire spread from the timber yard.
Last September a massive blaze in a fireworks factory in neighbouring Tamil Nadu state killed 38 people.
Fires in Indian factories are fairly common as safety regulations are not strictly enforced.