India cardboard traffic police to deter violators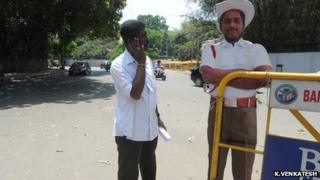 Police in the Indian city of Bangalore are using life-like cardboard figures of officers to try and stop traffic violations.
The 'fake' policemen have been placed in the central district and will be seen around the whole city soon.
The move is part of a drive to control traffic in the city that has about 4.2 million vehicles on its roads.
Bangalore in Karnataka state is home to multinational firms like Microsoft, Coca Cola, IBM and Hewlett Packard.
"It is not a gimmick. Wherever we have put up these cut outs, violations have come down," Traffic Commissioner MA Saleem told the BBC.
Mr Saleem admitted there is a shortage of more than 500 traffic policemen in the city.
"Right now we have put these cut outs in the central district. We will have them throughout the city soon," he added.
'Dumb idea'
Mr Saleem is credited with another novel initiative called Public Eye, which allows citizens to help police catch traffic offenders by posting photographs of violators on the traffic police website. Immediately the police take action against the offenders.
"We can't be at every junction all the time and such measures help" said Ramachandra, a traffic police sub-inspector.
Many in the force believe new measures had to be put in place to check habitual traffic violators.
But there are sceptics who doubt the effectiveness of this latest drive.
"All these things won't work. What is needed is the presence of real constables. The government should recruit more policemen," said one constable manning a busy junction in the city.
"Having dummies is a dumb idea. Do you think we can be fooled?" said Rahul, a college student.
Many other police officers believe such initiatives are temporary and only huge fines will help cut violations in the long run.
Police say there were more than 60,000 traffic violations in Bangalore in 2012. At least two pedestrians are killed on its roads every day by speeding vehicles.