Sterlite: Vedanta smelter in India fined 1bn rupees for pollution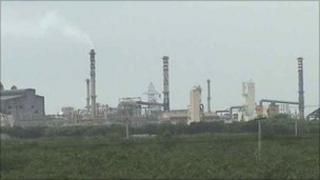 India's Supreme Court has ordered Sterlite Industries to pay a fine of 1bn rupees ($18.4m; £12m) for polluting the environment in Tamil Nadu state.
Sterlite, a subsidiary of the UK-based Vedanta mining group, runs a copper smelter in Tuticorin town.
The court said the company had five years to pay the compensation.
The court, however, overturned an earlier order of the Madras High Court to shut down the plant over long-standing environmental concerns.
In its ruling on Tuesday, Justice AK Patnaik said "compensation must act as a deterrent" and "any amount less than 1bn rupees would not have the desired impact", reports Press Trust of India.
In September 2010, the Madras High Court had ordered the copper smelting plant to shut down saying it was "letting out effluents into air and water which is having a devastating impact".
Sterlite, which is 54%-owned by Vedanta, has always insisted that the plant used a smelt process that was internationally accepted.
The company says its plant "adheres to the highest standards of environment, health and safety practices, benchmarked to international standards".
Sterlite employs about 3,000 people in Tamil Nadu, including about 1,000 at the smelter.
The plant has been shut since last week following complaints of a gas leak.
On Monday, Sterlite said the Tamil Nadu Pollution Control Board had ordered it shut after locals complained of breathing problems.