Santosh Maruti Mane: Death penalty for Pune bus driver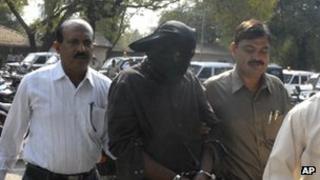 A court in India has given the death penalty to a bus driver who killed nine people and injured 27 by driving into vehicles and pedestrians in the city of Pune last year.
The 30-year-old driver had gone on a 25km (17 mile) rampage for 30 minutes during the morning rush hour.
Santosh Maruti Mane was convicted of murder, attempted murder and damage to property, the court in Pune ruled.
Nearly 40 vehicles were damaged before the bus was brought to a halt.
Mane was a driver with the government-run state transport department.
Ujjwala Pawar, the public prosecutor, told the BBC's Zubair Ahmed in Mumbai that the death penalty was given as Mane's crime fell into the "rarest of rare" category.
"It was a diabolic act and the sentence reflects the crime he committed," she said.
During the trial, Mane's lawyer had pleaded that his client was "mentally imbalanced", but the judge ruled that he was of a "sane mind", our correspondent reports.
The death penalty will have to be ratified by the high court before it can be carried out, our correspondent adds.
He can also appeal in the high court and then in the Supreme Court.
On 25 January, the day of the incident, police said Mane arrived at a bus depot early and drove off with an empty bus.
Eyewitnesses said he drove the vehicle at very high speed and on the wrong side of the road through busy areas, running over pedestrians and smashing into vehicles.