Protests after India West Bengal minister Amit Mitra assault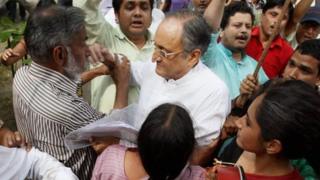 Protest rallies are being held in India after West Bengal state Finance Minister Amit Mitra was beaten up by protesters in Delhi on Tuesday.
Mr Mitra's boss - West Bengal Chief Minister Mamata Banerjee - was also heckled by communist students.
The demonstrators were angry over the death of a student activist in police custody in Calcutta last week.
Sudipta Gupta died while being taken in a bus to prison for defying police prohibitory orders during a protest.
The Students' Federation of India (SFI), of which Mr Gupta, 22, was a member, claimed that he died after being assaulted by the police.
The police say he hit a pole while hanging out of the bus and died of the injuries sustained in the accident.
'Delhi not safe'
On Wednesday, supporters of Ms Banerjee's Trinamool Congress party (TMC) held rallies in Calcutta and Delhi, demanding the immediate arrest of those who heckled Ms Banerjee.
She had arrived in Delhi on Tuesday to attend a series of meetings with the central government. But following the disturbances, she cancelled all her meetings - including those with the prime minister and the finance minister - and left for Calcutta.
Ms Banerjee was on her way to the planning commission office in Delhi with Mr Mitra when SFI activists accosted them.
"Delhi is not safe. I was manhandled. When I tried to get down to the planning commission [office], the police did not co-operate at all," Ms Banerjee told reporters on Wednesday.
While Ms Banerjee was escorted safely to the commission office by policewomen, the protesters blocked Mr Mitra's way and pushed him around.
Some reports say that he was left with a bleeding nose following the incident in which the mob shouted slogans and tore his shirt. Mr Mitra was eventually rescued by policemen and admitted to hospital where he is undergoing tests.
The attack was strongly criticised by West Bengal Governor MK Narayanan who called it "a blot on India's cherished democratic values".
"The shocking pre-meditated assault on the chief minister, the finance minister and other senior ministers of West Bengal in the national capital is an extremely unfortunate incident," the governor said in a statement.
"This kind of attack... is unprecedented in India's modern history and is serious enough to warrant a public apology by the politburo of the Communist Party of India (Marxist)," he said.
The CPI(M) leadership said in a statement that it "disapproved of and condemned" the incident.
"The party will look into how this has happened," the statement said.
Meanwhile, media reports from Calcutta said that TMC supporters had on Tuesday night vandalised several offices of left-wing parties in retaliation.