1984 India riots: Congress leader Jagdish Tytler probed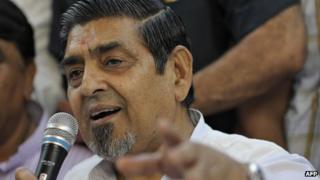 A court has ordered the reopening of a case against a Congress Party leader for his involvement in anti-Sikh riots in 1984.
Jagdish Tytler was originally cleared by the Central Bureau of Investigation (CBI).
More than 3,000 Sikhs were killed in 1984 after the assassination of Prime Minister Indira Gandhi. Activists accuse Congress of turning a blind eye to the killings and inciting mobs.
Mr Tytler denies any wrongdoing.
Lakhwinder Kaur, whose husband was killed in the riots, challenged a 2009 CBI report, arguing that the testimonies of two key witnesses had not been recorded.
"The court today gave directions to the CBI to record the statements of the witnesses who had [allegedly] seen Tytler lead the mob," Harvinder Phoolka, lawyer for one of the riot victims, told reporters.
The New Delhi court also asked the CBI to investigate whether Mr Tytler had incited a mob that killed three Sikh men at a shrine in Delhi during the riots, Mr Phoolka added.
A Congress spokeswoman said the party would await the court's conclusions before taking any action.
The 1984 riots began following the assassination of Mrs Gandhi.
The assassination was carried out as revenge for Mrs Gandhi ordering the killing of Sikh separatists at the Golden Temple in Amritsar.
Sikhs make up around 2% of India's population of 1.2 billion.