West Bengal smoking tax to aid 'duped investors'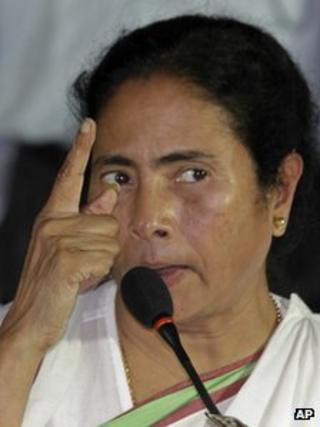 The leader of India's West Bengal state has announced a new tax on cigarettes to raise money for thousands of investors allegedly duped by a private company into losing their savings.
Mamata Banerjee said a 10% tax on cigarettes would help set up a special fund for them.
She joked that because the money was going to a good cause people should smoke more.
Businessman Sudipto Sen, who ran the investment company, has been arrested.
India has over 100 million smokers and the government says smoking kills nearly a million people a year.
Ms Banerjee apologised for the 10% tax increase on cigarettes and "all kinds of tobacco products".
But she said the money raised would be put towards a good cause.
"Please smoke a little more these days, then the amount can be raised quickly," she told a group of journalists in Calcutta.
Correspondents say raising taxes on tobacco is usually interpreted as a move in favour of public health, so Ms Banerjee's words have caused some confusion. Many believe that she was speaking in jest.
In the past few years, India has come up with stringent rules to curb the use of tobacco.
Tobacco-related advertisements are banned and the sale of tobacco products to minors is also an offence.
A countrywide ban on smoking in public places came into effect in 2008 years ago - although correspondents say it is blatantly flouted and poorly enforced.