Congress boss Sajjan Kumar cleared of Sikh riots role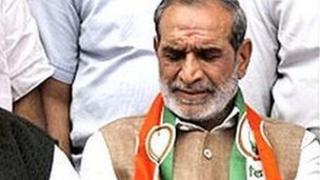 A court in India has cleared senior Congress party leader Sajjan Kumar of all charges relating to his alleged role in anti-Sikh riots of 1984.
However the court found five other men guilty of murder and rioting.
More than 3,000 Sikhs were killed in retaliation for the assassination of Prime Minister Indira Gandhi by two of her Sikh bodyguards.
India's top investigating agency had accused Mr Kumar of inciting crowds to kill Sikhs in Delhi's Cantonment area.
He has always denied charges of being involved in the killing of six people in the Cantonment - or military area - during riots that were sparked by the shooting of Mrs Gandhi.
Reports said a Sikh protester in the courtroom hurled a shoe at the judge after the verdict was pronounced. He was taken into custody.
Relatives of the victims, who were present outside the court at the time of Tuesday's ruling, said they were disappointed and would appeal against the acquittal.
Reports said many of them broke down and some argued with police.
Sikh groups have called it a "black day in India's history".
Mr Kumar's lawyer, IU Khan, called the case an example of "malicious prosecution".
"It appears to be a case of no evidence," he told CNN-IBN.
Mr Khan said that Mr Kumar is facing at least one other case in connection with the riots.
Last year, the Central Bureau of Investigation told the court they had found "credible evidence" that some Congress party leaders incited crowds to attack Sikhs during the riots.
Witnesses at the scene said that they heard Sajjan Kumar tell a crowd that "not a single Sikh should survive", the CBI had said.