India panic after bears kill eight in Orissa state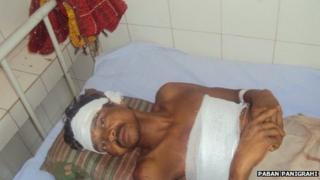 Wild bears have killed eight villagers within a week in the eastern Indian state of Orissa causing panic among local people, forestry officials say.
A dozen others have been injured in attacks by bears from forestry in the area around Kotpad village.
Angry villagers last week chased the bears and beat one of them to death, the officials said.
They say that the bears could have turned violent following excessive consumption of intoxicating flowers.
The flowers come from mahua trees, which are used by local tribes to brew alcohol.
Officials say the bears are very fond of mahua flowers and might have been attracted closer to human habitations by their smell.
Those injured in the attacks are being treated in hospital and reports say some of the wounded are in a serious condition.
A team of forestry department officials armed with tranquilisers is now camping in the area in case the animals return.
Orissa Chief Minister Naveen Patnaik has announced financial compensation for the families of those killed.
Forestry Minister Bijayshree Routray has ordered an inquiry into the attacks and into the killing of the bear, which is a protected animal in India.