India Bihar families fight for 66 years over a plot of land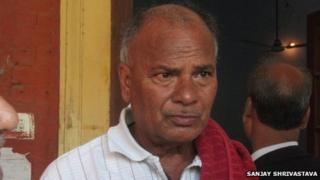 More than 300 litigants, 30,000 pages of charges and counter-charges, over a dozen lawyers, and 66 years in court.
That's how arduous and long the battle between two families in India over a nine-acre (four hectare) plot of land has been.
The court case began on 21 April 1947 - a few months before India became an independent country - when Biseshwar Singh of Ekauna village filed a case against fellow villager Har Govind Rai in a court in Ara town, in Bihar's Bhojpur district.
Both the families claim ownership of the land, sandwiched between the Ganges and Saryu rivers.
Today the fourth generations of the original petitioner and the defendant are contesting the case.
In the intervening years, more than three dozen litigants on both sides have died and the families say they have spent millions of rupees in court and lawyer fees.
And with the Ganges changing course and inundating the disputed land, most of it has turned into a riverbed.
'Battle for honour'
"Who will buy the land now with river flowing over it? The few acres of remaining land will hardly fetch 15,000 rupees ($275; £180)," says Satyanarayan Singh, great grandson of Har Govind Rai.
Mr Singh says his family has so far spent 2m rupees ($36,334; £23,837) on litigation, but he appears in no mood to give up fighting.
"Now, it is more a battle for honour and prestige than for a piece of land," he explains.
Mr Singh says he will contest the case until he dies and is now getting ready to hand over the baton to his sons - the fifth generation - who are expected to carry on the fight.
"After I'm gone, my sons and grandsons will take on the battle... we will not give up mid-way."
Umesh Kumar Singh, a fourth generation member of Biseshwar Singh's family, says the Ara court has ruled twice in their favour, but the case has not been settled yet.
Appeals have been filed, judgements have been set aside by higher courts, and in March 1966, a judge ordered a fresh hearing in the lower court after an independent assessment of the "actual position and measurement of the disputed land".
"It is because of our slow and complex judicial system that the case is lingering on for the last 65 years," says Umesh Kumar Singh.
He says he is tired of endless court appearances and taking care of thick court files with thousands of tattered documents.
But, he too is unwilling to give up the fight. "What to do… it is our right."
More than 30 million cases are pending in high and district courts in India. To add to litigants' woes, there's also a shortage of judges as vacancies are not filled.
There are over 1.6 million cases pending in the courts of Bihar, and a large number of them involve disputes over land.
"In a largely feudal society, landowners are deeply emotional about land, and therefore, such disputes are very common," says social scientist Sreekanth, who uses only one name.
Interestingly, both sides and their lawyers believe that it is difficult for any court to settle this long-pending dispute.
"An out of court settlement is the only option," they say.
In the current climate though, it doesn't look likely - asked how the matter could be resolved, the two sides start accusing each other, wagging fingers, and insisting their right to the disputed land.
"It seems difficult that they will come to a compromise formula. Let us see how much more longer it drags on in the court," says Binod Singh, lawyer for Umesh Kumar Singh.