India IPL 'spot-fixing': Cricketers' remand extended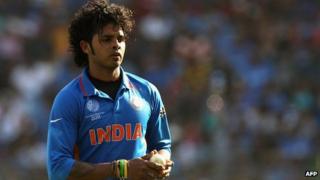 A court in India has extended custody of three cricketers, arrested last week over allegations of spot-fixing in the Indian Premier League (IPL).
S Sreesanth, Ajit Chandila, Ankeet Chavan will remain in police custody for five more days.
Their families say they are innocent. Last week Sreesanth's lawyer said the allegations were baseless.
The players have been suspended by India's cricket board and their IPL team Rajasthan Royals.
Spot-fixing involves illegally rigging parts of a match, for example by timing the delivery of a deliberate wide or no-ball, to benefit bookmakers or those betting on matches.
Police say the players used codes like "rotating their watches, putting towels in their pants, taking out locket from shirt, taking out shirt and vest that you're wearing, make signs with jersey" to communicate with the bookmakers.
In a separate development, Mumbai police said they had arrested actor Vindoo Randhawa in connection with the spot-fixing inquiry. Mr Randhawa who won series three of Bigg Boss - India's version of the television show Big Brother - has made no public comment yet.
The Rajasthan Royals team is owned by Bollywood actress Shilpa Shetty and her businessman husband Raj Kundra. It is captained by legendary Indian batsman Rahul Dravid.
The most high-profile among the arrested men is fast bowler Sreesanth who has represented India in many international games. He has played 27 Tests and 53 one-day internationals.
The sixth season of the IPL, which is considered to be the world's showcase for Twenty20 cricket, is currently under way in India.
Top Indian and international players are taking part, contributing to what is the world's richest cricket tournament.