India village gets electricity after 65 years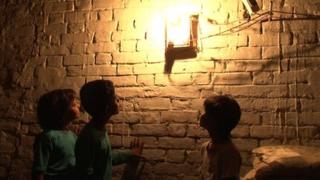 A village in India's most populous state of Uttar Pradesh recently got electricity for the first time - 65 years after independence. The BBC Hindi's Nitin Srivastava visits Chibaukhera to find out how the lives of more than 100 families have changed.
Fifty-one-year old Ram Achal is a relaxed man these days.
For many years, he travelled to a neighbouring village daily to recharge his mobile phone because there was no electricity at home.
"We have been waiting for decades to get bulbs and fans in our homes. Despite being so close to the malls and colourful shopping complexes in Lucknow city, our lives revolved around kerosene lamps and candles. Not anymore," he says.
Chibaukhera is barely 15km (nine miles) from the airport in Lucknow, the bustling, brightly lit state capital. It's also a half-an-hour's drive from the residence of the state's chief minister.
Ram Achal's is one among the 100-odd families living in this sleepy farming village.
'Nightmare'
"All this while, living here was a nightmare. Men in our village never received marriage proposals from outside as parents were afraid of sending their daughters or sisters into this darkness," he says.
A newly installed 100 kilowatt (KW) electric transformer has now changed the life of villagers in Chibaukhera.
Within days of its installation, many families bought bulbs, fans and refrigerator for their homes. Power cuts are still common, but people say they are happy with even eight to 10 hours of electricity a day.
Uttar Pradesh is one of India's most under-developed states and more than 10,000 of its 97,122 villages still languish without electricity.
Senior power official MK Verma says the state has a power deficit of around 14%, which is considerably higher than the national average of 8.8%. And power outages are common throughout the state.
But why did Chibaukhera have to wait so long to get power despite being located so close to the state capital?
Residents say the village fell off the electrification map because of its small population - they say neighbouring villagers with more people got electrified much earlier.
Also, despite its proximity to Lucknow city, Chibaukhera is not very easy to reach - one has to cross a defunct, dry canal and walk along a muddy dirt track to reach the place.
Villagers also attribute the delay to sheer government apathy.
Power official MK Verma does not agree.
"The speed of electrification depends on the demand and supply situation. There is no such thing as giving importance to some villages, and neglecting others. Electrification is an ongoing process," he says.
Happy
However, the residents of Chibaukhera are no longer complaining.
Children and women are glued to cricket and soaps on newly-installed TV sets and many homes are cooler with fans. Some villagers are even storing food in their new refrigerators for the first time in their lives.
When electricity officials reached their village in the first week of May this year, many families ordered sweets.
Malti, 23, now has two fans and a refrigerator installed at her home.
As her parents start looking for a suitable groom for her, she is trying to make up for the lost time.
"I love stitching, but could not pursue my hobby after sunset. These days I continue doing that late into the night. And, of course, with the onset of summer, I am looking forward to sleeping well thanks to my new fan," she says.
"Now I also get to watch my favourite television serials at home. Earlier, we could only watch television while visiting relatives outside," she says.
For the villagers, mostly farmers, buying and ferrying water for irrigation of their fields was an arduous and expensive exercise.
"The biggest problem was hiring generators and water pumps to irrigate our farms. Now we are all thinking of buying pump sets," says Munnalal, a resident.