India probes deadly Maoist ambush in Chhattisgarh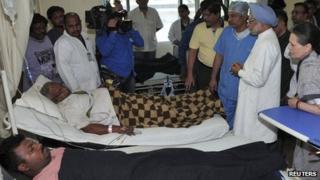 India's top anti-terrorism investigators are visiting the site of Saturday's deadly attack by Maoist rebels in the state of Chhattisgarh.
A six-member National Investigation Agency (NIA) team is in Darba where 24 people, including some top state politicians, were killed on Saturday.
Officials said hundreds of police were scouring the forests for the rebels.
Meanwhile, the rebels said they carried out the attack to protest against the government's "anti-people policies".
In a note sent to the BBC, the rebels also apologised for the death of some "innocent" people in the attack.
The rebels had ambushed a convoy of Congress party leaders, killing Chhattisgarh party chief Nandkumar Patel, his son, and local leader Mahendra Karma.
The NIA team reached Jagdalpur town, 50km (31 miles) from the scene of the attack, on Monday evening.
The team held meetings with the police and senior administration officials in the district, reports said.
Prime Minister Manmohan Singh, who along with the Congress party chief Sonia Gandhi visited the wounded in the hospital a day after the attack, said India would "never bow down" before the rebels.
The convoy carrying state Congress leaders and party workers was ambushed at around 17:30 (12:00 GMT) on Saturday as it travelled following a campaign rally.
Police said the convoy was first forced to stop by felled trees on the road. At least one vehicle at the front of the convoy was then hit by a land-mine blast before as many as 200 suspected rebels opened fire, they added.
Former federal minister Vidya Charan Shukla was among the dozens wounded in the ambush. His condition remains serious.
Maoist rebels, also known as "Naxalites", have been operating in central and eastern India for the past four decades.
They demand land and jobs for the poor, and ultimately want to establish a "communist society" by overthrowing India's "semi-colonial, semi-feudal" form of rule.