IPL cricketer S Sreesanth is remanded in custody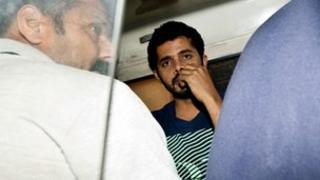 Indian fast bowler S Sreesanth, arrested earlier this month over allegations of spot-fixing in the Indian Premier League, has been remanded in custody.
Sreesanth was arrested with Ajit Chandila and Ankeet Chavan, fellow bowlers from the Rajasthan Royals team.
Sreesanth has denied the charges and has proclaimed his innocence.
The families of Chandila and Chavan have also said they are innocent. The arrests have shocked many Indians.
Spot-fixing involves illegally rigging parts of a match, for example by timing the delivery of a deliberate wide or no-ball, to benefit bookmakers or those betting on matches.
The players have been suspended by India's cricket board and the Rajasthan Royals.
Sreesanth, who was in police custody, has now been remanded to judicial custody until 4 June, reports say.
The three cricketers along with 11 bookmakers were arrested in connection with the spot-fixing inquiry on 16 May.
Chennai Super Kings top official Gurunath Meiyappan and actor Vindoo Randhawa have also been arrested in connection with the scandal. Both deny the charges.
The sixth season of the IPL, which is considered to be the world's showcase for Twenty20 cricket, ended on Sunday.
Top Indian and international players took part, contributing to what is the world's richest cricket tournament.