Indian media: Dhoni's 'silence'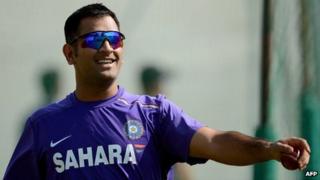 Media in India are discussing national cricket team captain Mahendra Singh Dhoni's silence over spot-fixing allegations in the Indian Premier League (IPL).
Three IPL cricketers, including Test player Shantakumaran Sreesanth, several bookmakers and a Bollywood actor are currently under arrest over spot-fixing allegations in the tournament, but the captain has refrained from commenting on the controversy.
"Dhoni is gagged as cricket's politicians close ranks," reads The Hindu's front-page headline.
The Indian Express says: "BCCI [Board of Control for Cricket in India] gags Dhoni."
"Dhoni was bombarded with questions regarding the spot-fixing. But Dr RN Baba, media manager of the BCCI, parried the queries, acting according to the diktat of the cricket board to not entertain any questions on the episode," the Deccan Herald reports.
Meanwhile, calls urging the BCCI president, N Srinivasan, to resign are growing louder with a senior board official joining the chorus.
"The conspiracy of silence within the BCCI was broken on Tuesday when board heavyweight and Power Minister Jyotiraditya Scindia publicly said N Srinivasan should quit," The Times of India says.
Staying with cricket, India's sports ministry wants to legalise betting to curb corruption in cricket and other sports.
"Since betting in 'skilled games' such as horse racing is allowed, it should be extended to all other sports. The move would clean sports of corrupt practices and ensure transparency as well," the Hindustan Times quoted ministry officials as saying.
PM in Tokyo
Meanwhile, Prime Minister Manmohan Singh's visit to Japan is also getting front-page coverage in newspapers.
The Tribune reports that Mr Singh has "pitched for closer defence ties with Japan" and sees the Asian economic giant as a "natural and indispensable partner".
The Hindu says the PM's "message is bound to be read in the context of recent tensions between India and China and the perception that Delhi is being considered by Tokyo and Washington as an important player to neutralise the growing influence of China in the economic and geopolitical spheres of the region".
Away from politics, The New Indian Express reports that film actress Leena Maria Paul was arrested on Tuesday for alleged involvement in cases of financial cheating.
There is, however, some good news for those who love watching comedy on TV.
The Delhi high court on Tuesday temporarily lifted a 10-day broadcast ban on entertainment channel Comedy Central, The Indian Express reported.
The government had ordered the channel to stop broadcasting last Saturday for allegedly "airing obscene dialogues and vulgar words besides being derogatory to women".
And moving on to some sad news for animal lovers, the only surviving male Royal Bengal tiger in Delhi's national zoo has died.
"The 20-year-old tiger was suffering from multiple organ failure due to his old age," zoo officials told The Pioneer.
BBC Monitoring reports and analyses news from TV, radio, web and print media around the world. For more reports from BBC Monitoring, click here. You can follow BBC Monitoring on Twitter and Facebook.