Indian media: Calls grow louder for Srinivasan exit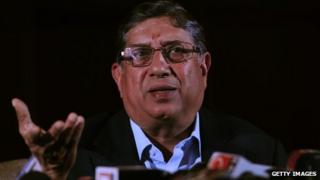 Media shine a spotlight on growing calls seeking cricket chief N Srinivasan's resignation over spot-fixing allegations in the Indian Premier League (IPL) tournament.
"Clamour for Srinivasan's exit is snowballing," - this front-page headline in The Asian Age sums up the media's mood over the Board of Control for Cricket in India (BCCI) chief's refusal to resign.
Mr Srinivasan's son-in law, Gurunath Meiyappan, is under arrest over allegations of betting in the IPL and many see this as a case of conflict of interest, the NDTV website says.
"N Srinivasan on Wednesday found himself under intense pressure to quit after two BCCI heavyweights, IPL Chairman Rajeev Shukla and board Vice-President Arun Jaitley, asked him to 'stay away' till investigations against his son-in-law were completed in the IPL spot-fixing scandal," reports The Times of India.
India's sports ministry too has urged the BCCI chief to "step down on moral grounds", reports the Zee News website.
Former BCCI President Sharad Pawar has also criticised Mr Sirinivasan for refusing to resign, the Headlines Today reports.
Mr Srinivasan, who denies any wrongdoing, has said he "can't be bulldozed or railroaded into resigning".
Staying with cricket, while national team captain Mahendra Singh Dhoni chose to remain silent on the IPL controversy, legendary Test batsman VVS Laxman was forthright in saying that "greedy players are affecting the credibility of cricketers".
"It's very disappointing. Last two weeks, it's been quite distressing and a feeling of anguish was definitely there," The Pioneer quoted Laxman as saying.
'Warmth of the rising sun'
Moving on to foreign affairs, newspapers are backing PM Manmohan Singh's Japan visit and feel the two Asian giants must boost their co-operation in geopolitics, defence and nuclear energy.
"India must ramp up ties with Tokyo" and be open to "the warmth of the rising sun", says The Pioneer.
The Hindustan Times argues that "India should not miss the rare opportunity of building economic ties with Japan".
"Despite Beijing's fulminations, India and Japan on Wednesday lifted their strategic convergence to a new level by vowing to work together for ensuring stability in the Asia-Pacific region in the face of growing muscle-flexing by China," says The Times of India.
The Pioneer feels that "there is nothing to suggest that Chinese aggression in the region will diminish. If anything, it will be ramped up over the years - more the reason why India and Japan must join hands and strengthen their security partnership".
Meanwhile, frequent power cuts are making it difficult for Delhi's citizens to deal with the unrelenting heat wave.
The Mail Today's headline "NCR [National Capital Region] slides into dark age" tells the story of power cuts in Delhi and adjoining areas.
However, there is some good news for those who have been taken for a ride by tuk tuk drivers in Delhi as the city's traffic police have come up with a new plan "to discipline errant drivers".
"Errant auto drivers would be slapped with 2,000 rupees (£23; $35) fine for refusal, misbehaviour, overcharging, harassment and operating without a meter for the first violation and 5,000 (£58; $89) rupees for repeat violations," reports the Hindustan Times.
And finally, Bollywood star Shahrukh Khan has been discharged from a Mumbai hospital following shoulder surgery, the Deccan Herald reports.
BBC Monitoring reports and analyses news from TV, radio, web and print media around the world. For more reports from BBC Monitoring, click here. You can follow BBC Monitoring on Twitter and Facebook.