Indian media: Cricket chief criticised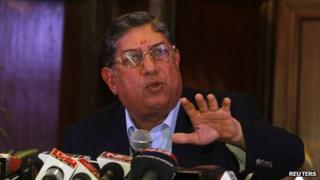 Media in India are criticising the cricket board chief N Srinivasan for merely "stepping aside" and not resigning from the post over spot-fixing allegations in the Indian Premier League (IPL) tournament.
Mr Srinivasan has been resisting calls to resign since the arrest of his son-in-law Gurunath Meiyappan over allegations of betting in the IPL, sparking much outrage in the media.
On Sunday, he agreed to "step aside" from the role and Jagmohan Dalmiya, the former chief of the Board of Control for Cricket in India (BCCI), was appointed to oversee the "day-to-day activities" of the board until an investigation into the allegations had been completed, reports said.
Newspaper headlines, such as the Mail Today's "shambolic decision" and The Indian Express' "Srinivasan steps aside, but gets his way", very much sum up the media's dismay over the move.
The Times of India says Mr Srinivasan's decision to step aside has been dismissed by many as an "eyewash" and a "sham".
The NDTV website too calls it a "sham" and says that Mr Srinivasan has scored an "inconceivable victory".
Moving on to foreign affairs, India has requested the US to "temporarily" hand over Mumbai attack accused David Headley for questioning, reports The Statesman.
India wants Headley, a US man sentenced to 35 years in prison for his key role in plotting the deadly 2008 Mumbai attacks in which 175 people died.
And, in yet another case of sexual violence against women in India, a 25-year-old man was arrested on Sunday in Calcutta for allegedly raping a 22-year-old Irish woman, reports The Times of India.
'Monsoon date'
Meanwhile, the much-anticipated monsoon rain has kept its date with the southern Indian state of Kerala and arrived on Saturday, The Times of India reports.
The rains mean much more than a meteorological activity to farmers who rely heavily on the wet season to irrigate their crops.
"The rains, from June to September, are vital for 55% of the farmland in India, one of the world's largest producers and consumers of food," says The Business Standard.
But, it may be a few weeks before the much needed rains hit the northern parts of the country, reeling under an unrelenting heat wave, the Zee News reports.
In a big relief to television watchers, broadcasting regulator Telecommunications Regulatory Authority of India has ordered channels to air no more than 12 minutes of advertisements every hour from October, the India Today reports.
And finally, some inspiring news for those who love nature - an 80-year-old Delhi resident has set an example by planting more than 1,000 trees in the past six months in his locality.
"If one wants to do good, age cannot be a barrier and Tejpal Bharti has just shown that by planting so many trees in the Dwarka area of Delhi," Hindi newspaper Dainik Jagran reports.
BBC Monitoring reports and analyses news from TV, radio, web and print media around the world. For more reports from BBC Monitoring, click here. You can follow BBC Monitoring on Twitter and Facebook.