Obituary: Bollywood actress Jiah Khan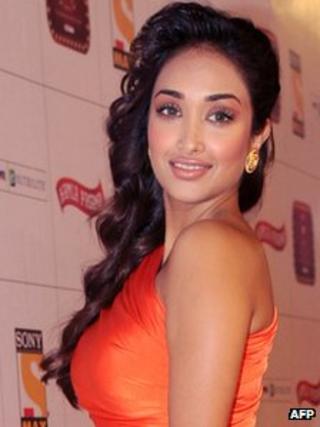 Bollywood actress Jiah Khan, who died on Tuesday, has been described by her film colleagues as a "high-spirited" young woman who was "full of life".
The actress had a dream debut when she was paired with superstar Amitabh Bachchan in the 2007 film Nishabd (Silence).
In a video interview on her official website, Khan said she was "pretty taken aback" to be considered for the role in the film which she described as "an adaptation of Lolita".
"It was quite a controversial subject in a country which is still closed on sex and relationships," she said.
The film did not do well at the box-office, but the pretty and petite Khan was noticed for her portrayal of the free-spirited teenager whose intimacy with her best friend's father shatters his family.
Khan did two more Bollywood films after that.
In her second film, Ghajini, she played a medical student, the simple "girl-next-door", and was cast opposite Aamir Khan, another Bollywood star.
She was last seen in the 2010 film Housefull, a comedy which had actor Akshay Kumar in the lead.
On her website, the actress revealed she had signed three more films and was to begin shooting for them at the end of the year.
Despite securing roles with major Bollywood stars in her three films, Khan did not make it to the big league and mostly remained on the periphery of Mumbai's film industry.
She received a few mentions in film magazines and city newspaper supplements but was not an actress in the limelight and there is little known about her life.
Khan, who turned 25 in February this year, was born as Nafisa Khan in New York, grew up in London and described herself as a "huge Shakespeare fan".
She changed her name to Jiah Khan at the time she made her Bollywood debut, but earlier this year announced that she was going back to her original name.
The actress was a versatile dancer and trained as an opera singer, but said her "ultimate passion" was acting.
Khan also did modelling assignments, including one for Wrangler jeans, and was the brand ambassador for the prestigious Taj group of hotels.
She was also an ambassador for Peta (People for the Ethical Treatment of Animals) for their campaign against caging of wild animals in zoos.