Infosys: Narayana Murthy's uphill task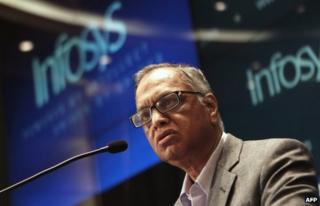 Just over a decade after he relinquished executive control, NR Narayana Murthy, the charismatic billionaire co-founder of one of India's largest outsourcing firms Infosys, has stunned the industry and investors by returning as its executive chairman.
Mr Murthy, 66, described it as a move he himself had not anticipated in his "wildest dreams".
With his re-entry, he has cast himself as a saviour of the floundering Infosys even as it slid to third spot in the industry rankings, overtaken by a relative upstart, Cognizant Technologies.
Investors saluted the iconic Mr Murthy's arrival and Infosys' share price shot up by 9%, the most in nearly six months, before settling 4% over its previous close.
Bangalore-based Infosys, once the bellwether of India's information technology industry, has recently had its confidence shaken by shrinking revenues, rising employee attrition and sinking morale.
Huge challenge
The stock price plummeted 20% to its lowest price in a decade just after its quarterly results were announced in April.
Infosys went from being the first Indian company to list on the tech-heavy Nasdaq stock exchange to the first to be served a subpoena on a worker visa issue by a grand jury in the US.
Industry observers say turning the company around could be a huge challenge even for a leader with Mr Murthy's track record.
"After being in the doldrums in the past few years, Infosys has lost a tremendous amount of momentum, credibility and cachet in the marketplace," said Partha Iyengar, country manager of research at consulting firm, Gartner.
"Even with Mr Murthy back at the helm, it will be hard to recover from that," he added.
In making Infosys successful, Mr Murthy achieved iconic status as one of India's greatest entrepreneurs.
The son of a school teacher, he rose from a modest middle-class background and co-founded Infosys with six other engineers with a paltry investment of $250 (£163).
After building it into a multi-billion dollar firm, Mr Murthy became the face of the industry that heralded India as a global technology power.
His reign at Infosys coincided with the golden era of Indian outsourcing. The industry grew at 30-40% annual rates to cross $100bn in revenues (2012 revenues $108bn).
Thousands of newly-minted engineers were guaranteed employment as companies hired massively. In 2002, when Mr Murthy quit his executive role, Infosys was growing at an annual rate of 37%.
Recently, however, it has been quarter upon quarter of disappointing news.
Infosys chased a much-hyped strategy focusing on products and platforms and dubbed "Infosys 3.0" by SD Shibulal, its co-founder and chief executive.
The company was steered towards higher-value consulting projects at the cost of the lower-margin, labour-intensive services it had built its reputation on.
The changed strategy, however, did not yield the desired results.
In the last three years, Infosys has seen those double-digit growth figures decline, and for the October 2012 - September 2013 financial year it expects growth of 6.6%.
Worse still, in the fiscal year 2014, the $7bn, 156,000-employee company is expected to underperform the industry.
"Focus on work"
With his dramatic comeback after the Infosys board requested his return, Mr Murthy has a lot to prove.
In a country where politics, sport and cinema are rife with examples of geriatric leaders clinging on to their positions, Mr Murthy has chosen to come back at an age when most Indian corporate leaders retire.
To stir up the firm in the challenging market conditions and deliver magical results to impatient investors will not be easy.
Last year, after twice missing its revenue forecast, Infosys stopped giving out quarterly sales and earnings guidance. Four days after his comeback announcement, Mr Murthy told the BBC he would rather "focus on my work" than make forecasts.
Mr Murthy faces a tough scenario.
"What Infosys needs now is inspirational leadership to focus on sales and make the company work as one team," said former Infosys chief financial officer Mohandas Pai who quit in a huff a few years ago after he was overlooked for the chief executive's role in favour of co-founder Mr Shibulal.
Indian IT itself appears to be struggling - consultancy firm Gartner says the "growth rate of India-based providers has been slowing for some years, but in 2012 this trend was more pronounced".
Some see it as a "middle-age crisis", an industry governed by a greying upper layer of executives who are too conservative to keep up with the mercurial changes in the industry, but still will not relinquish leadership control to younger talent.
In this background, Mr Murthy is required to be the Renaissance Man. In tow is his Cornell and Harvard-educated son Rohan Murty, 30, a PhD in computer science and among the largest individual shareholders of the company, who has been named his executive assistant.
However, a lot has changed in the industry since Mr Murthy took his hands off the steering wheel at Infosys. Also, any major turnaround will take time.
Mr Iyenger of Gartner likened the agility needed in the IT industry to changing the tires on a car moving at 100 miles per hour.
"The challenge at Infosys, however, equals replacing the engine of the car in the middle of an F1 track when everyone else is going at 100 miles per hour," he said.
"Infosys has already been lapped a few times over, can they recover in time and catch up? It's a tough task."
Saritha Rai is a journalist and commentator who tracks the economic, social and cultural changes sweeping India.