Amitabh Bachchan to act in TV series for the first time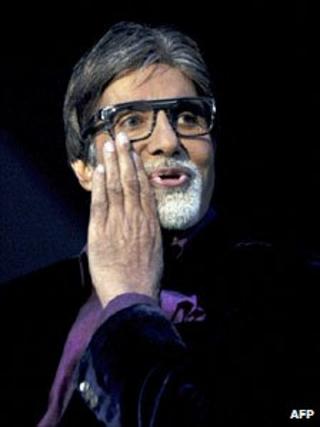 Bollywood star Amitabh Bachchan will act in a TV series for the first time in his career, the actor has tweeted.
He said the "details of the series will come later". But creative director of the show Anurag Kashyap said it would be "something in fiction format".
Bachchan has acted in more than 180 films and remains one of India's most popular actors.
The 70-year-old star recently made his Hollywood debut in a new adaptation of The Great Gatsby.
"Never done serials before, so apprehension plays hard... but... better to have loved and lost than not to have loved at all!" Bachchan tweeted about the upcoming series.
He told reporters that he felt "doing a serial on television could be quite exciting".
Bollywood director Anurag Kashyap, who will be the creative chief of the series, said it would be "something in fiction format, that has not been done on television yet".
"So we are figuring out as we go along... it's too early for me to say anything right now."
Bachchan's earlier stint with television was as the celebrity host of Kaun Banega Crorepati, the Indian version of Who Wants to be a Millionaire - one of the most watched shows on Indian television.
A waxwork of Bachchan at Madame Tussauds was the first to be made of an Indian actor.
Last year, Bachchan carried the Olympic flame in London, a day before the opening ceremony.