LK Advani: India BJP leader quits all party posts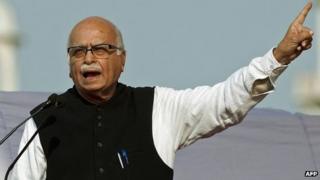 One of the founding members of India's main opposition BJP, LK Advani, says he is resigning from all his party posts.
Mr Advani said most of the party's current leaders were "now concerned with their personal agendas".
Reports say he is upset over the appointment of controversial party colleague Narendra Modi as head of the BJP's election committee.
Correspondents say the resignation exposes major rifts in the party ahead of next year's general elections.
At the weekend, Mr Advani stayed away from the party convention in Goa where Mr Modi's elevation was finalised, saying he was unwell.
The 85-year-old politician is a founder member of the BJP and is considered the party patriarch. He was India's home minister and deputy prime minister when the BJP was in power in the late 1990s.
Party president Rajnath Singh has rejected the resignation offer and senior colleagues are trying to dissuade the veteran leader from quitting.
'Difficult to reconcile'
In his resignation letter to Mr Singh on Monday, Mr Advani said he was resigning from all the main organisations of the party, including the parliamentary board, the national executive and the election committee.
"For some time I have been finding it difficult to reconcile either with the current functioning of the party, or the direction in which it is going," he wrote in the letter.
"Most leaders of ours are now concerned just with their personal agendas."
The letter took his senior party colleagues by surprise and Sushma Swaraj, leader of the opposition in the Lok Sabha [the lower house of India's parliament], said she would try to dissuade him from resigning.
"I am a little surprised that he took this decision without taking us into confidence," she told reporters. "I am going to meet him. I believe I will be able to convince him," she said.
Mr Advani's comments are being seen as criticism of Mr Modi, who will lead the BJP's campaign in next year's general elections. The appointment in effect positions the Gujarat leader as the party's candidate for prime minister.
Mr Modi is seen as a dynamic and efficient leader who has made Gujarat an economic powerhouse.
But he is also a deeply divisive figure whose reputation was tarnished by anti-Muslim riots which took place in 2002 under his watch. More than 1,000 people, most of them Muslims, were killed. Mr Modi denies doing too little to stop the violence.