Is India's BJP facing its worst crisis?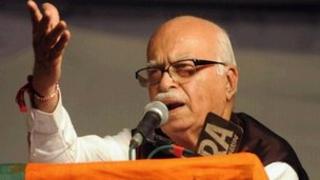 India's main opposition Bharatiya Janata Party (BJP) finds itself in its worst crisis ever.
Party veteran LK Advani's sudden resignation from all party positions on Monday followed the weekend elevation of controversial leader Narendra Modi as the man to lead the party's campaign for 2014 elections.
Media reports say the 85-year-old Mr Advani harboured ambitions of being the prime ministerial candidate in the polls and had been upset in the way Mr Modi - regarded as an upstart by his opponents in the party - was instead being promoted.
At the heart of the crisis is a clash of personalities and a battle for political control between the BJP's old and new guard, familiar triggers that lead to splits in political parties.
Mr Advani, his defenders say, is one of the architects of the 33-year-old Hindu nationalist party who, along with the charismatic former prime minister Atal Behari Vajpayee, helped it to become a major political force, taking it from two parliamentary seats in 1984 to government within 15 years.
They believe with Mr Advani at the helm, the party has a better chance of pulling along its allies in the 2014 polls as many see Mr Modi as a divisive figure.
Formidable challenges
Mr Advani's supporters believe he was treated unfairly when the party went ahead and named Mr Modi, 62, as the all powerful campaign chief for 2014, a prelude to naming him as the party's new prime ministerial candidate.
Mr Modi's defenders say that by picking the Gujarat chief minister as the man to lead the campaign, the party has bet on a man who promises decisive and strong leadership, espouses a brand of muscular nationalism, and appeals to the young and a wide swathe of India's booming and restless middle class. They point to Gujarat's robust economic performance as proof of Mr Modi's abilities.
His supporters also believe that Mr Modi, described by his biographers as a reclusive, master strategist, is BJP's best bet at triumphing over the ruling Congress party, beset with allegations of corruption and inaction.
But his critics say Mr Modi will face formidable challenges in the days ahead.
Within the party, according to The Times of India, many see him as an "autocrat rather than a team player".
Outside, more importantly, he is seen as a divisive leader who is accused of doing little to stop anti-Muslim riots in 2002 which left more than 1,000 dead.
Some 15% (180 million) of India's 1.2 billion people are Muslims. Muslims comprise over 11% of the voters in more than six states, including populous and politically crucial Uttar Pradesh.
By one estimate, Muslim votes could turn out to be a deciding factor in over 200 of the 543 parliamentary seats. There have been media reports of possible consolidation of Muslim votes in the event of Mr Modi being pitched as the BJP's prime ministerial candidate.
There is also the question of whether middle-of the-road allies of the BJP will be comfortable with Mr Modi's aggressive brand of politics.
One ally - the Janata Dal-United, which runs the government in Bihar state in coalition with the BJP - has already made noises about walking away from a federal BJP-led alliance if Mr Modi is made the prime ministerial candidate. Others may follow.
Wonders Kingshuk Nag, writer of The Namo Story, a book on Mr Modi's political life: "Mr Modi is offering himself as the change young India is desperate for. The party is trying to make the 2014 polls as a referendum on Mr Modi. Will India accept him?"
Mr Advani's open "revolt" against Mr Modi, who was once his acolyte, has now come as a twist in the tale and could ruin the party for the BJP.
Will the old guard rally around Mr Advani and split the party? Or will they fall in line with Mr Modi? Or will the BJP manage to placate the patriarch and arrive at a face saving solution acceptable to Mr Modi and the young guard?
In many ways, Mr Advani and Mr Modi, leader and follower-turned-adversaries, mirror each other: both are hardline and polarising leaders of their own generations. Only now, one appears to be ranged against the other, and at stake is the future of the BJP.