LK Advani: India BJP leader withdraws his resignation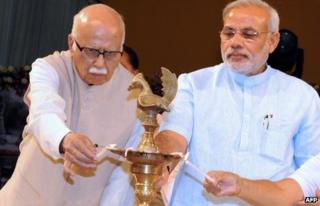 Veteran Indian politician LK Advani has withdrawn his resignation from all his posts in the opposition BJP after pressure from its senior leadership.
Mr Advani quit on Monday saying that the party's current leaders were "now concerned with their personal agendas".
Reports said that he was upset over the appointment of Narendra Modi to head the BJP's election campaign.
BJP leaders say Mr Advani changed his mind after receiving assurances that his concerns would be addressed.
Mr Advani, 85, is a founder member of the BJP and a former deputy prime minister.
Both he and Mr Modi are believed to have ambitions to become the BJP's candidate for prime minister in next year's elections.
Crisis
Mr Advani told leaders who visited him that Mr Modi "is not the right leader for India", the NDTV news channel reported.
On Monday, Mr Modi said he had a "detailed conversation" with Mr Advani on the phone and "urged him to change his decision".
He tweeted that he hoped Mr Advani would not "disappoint" party workers.
However a statement on the BJP's website on Tuesday said that that Mr Advani's concerns about the functioning of the party "would be properly addressed and [party] President Rajnath Singh will discuss the modalities of addressing these concerns" with him.
How Mr Singh and other BJP leaders plan to overcome Mr Advani's reservations about party strategy remain unclear.
Mr Singh was quoted by the Press Trust of India as saying that "there will be no going back" on Mr Modi's appointment.
It is for the third time in eight years that Mr Advani has resigned from top party posts. In 2005 he announced he was stepping down after praising Pakistan's founder Mohammed Ali Jinnah.
Correspondents say his latest resignation plunged the party into a crisis ahead of next year's elections.
In his resignation letter to Mr Singh on Monday, Mr Advani said he had been "finding it difficult to reconcile either with the current functioning of the party, or the direction in which it is going".
"Most leaders of ours are now concerned just with their personal agendas."
Mr Advani's comments were seen as criticism of Mr Modi, who will lead the BJP's campaign in next year's general elections. Analysts said that the appointment in effect positioned the Gujarat leader as the party's candidate for prime minister.
Mr Modi is seen as a dynamic and efficient leader who has made Gujarat an economic powerhouse.
But he is also a deeply divisive figure whose reputation was tarnished by anti-Muslim riots which took place in 2002 under his watch.