Mumbai building collapse kills four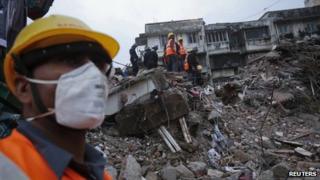 At least four people have been killed after a building collapsed in the Indian city of Mumbai, police say.
Six others were wounded when a part of the five-storey Altaf Manzil building caved in on Monday evening.
Rescue operations continued through the night and a search is on for people trapped under the rubble.
It is not known what caused the collapse but correspondents say they are common in India and often blamed on poor construction practices.
"At least four people are dead and six others injured in the collapse," news agency AFP quoted a police inspector in Mahim neighbourhood, where the collapse happened, as saying.
Rescue operations were hampered by heavy rain, the agency said.
In April, 74 people were killed when an illegally constructed high-rise residential building collapsed in Mumbai.
Police arrested nine people, including builders, police officers and municipality officials, in connection with the incident.
There is huge demand for housing, and corruption often leads to cost-cutting and a lack of safety inspections, correspondents say.
In a similar collapse in 2010, 69 people were killed in Delhi.