S Sreesanth: IPL cricketer freed on bail in India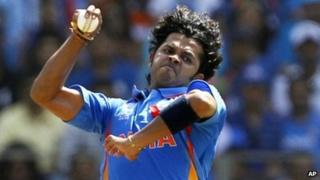 Indian fast bowler S Sreesanth, arrested last month over allegations of spot-fixing in the Indian Premier League, has been freed on bail.
On Monday, a court ordered the release of Sreesanth, fellow cricketer Ankeet Chavan and 17 other defendants.
A third cricketer, Ajit Chandila, who is also in jail on similar charges, is yet to apply for bail.
Sreesanth, Chavan and Chandila - all bowlers from the Rajasthan Royals IPL team - have denied any wrongdoing.
Spot-fixing involves illegally rigging parts of a match, for example by timing the delivery of a deliberate wide or no-ball, to benefit bookmakers or those betting on matches.
On Monday, India's cricket board also suspended Rajasthan Royals team owner Raj Kundra from participation in cricketing activities over allegations of betting in the IPL.
Mr Kundra's passport was seized last week and he was ordered not to leave India. He has denied any wrongdoing.
The arrests of the players on 16 May shocked many Indians. They were suspended by India's cricket board and the Rajasthan Royals.
Most of the others arrested in connection with the case - who are now being released on bail - are bookmakers.
The Delhi police had sought to keep the players and bookmakers in jail alleging that they had a "nexus" with an "organised crime syndicate".
But on Monday, the court granted them bail saying the police had failed to produce "sufficient material" against the accused to establish their claim.
The IPL is considered to be the world's showcase for Twenty20 cricket. Top Indian and international players take part, contributing to what is the world's richest cricket tournament.