India Maoists: Three die in attack on train in Bihar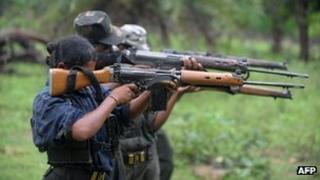 At least three people have been killed in an attack on a passenger train by suspected Maoist rebels in the northern Indian state of Bihar, police say.
A police guard and two passengers died in the attack on the Dhanbad-Patna express train, railway police official Amitabh Das told the BBC.
Guards on the train fired at the rebels who then fled to the nearby forests.
Police said additional troops had been sent to the area. The train driver is among those injured.
Police officer SK Bhardwaj told reporters in the state capital, Patna, that the motive of the attack appeared to be to loot the guards' weapons.
He said the rebels had taken away some guns. The train, which was carrying 1,500 people, later resumed its journey.
Maoists, also known as "Naxalites", have been operating for more than 40 years in central and eastern India.
They demand land and jobs for the poor, and ultimately want to establish a "communist society" by overthrowing India's "semi-colonial, semi-feudal" form of rule.
Last month, the rebels attacked a Congress party convoy, returning from a campaign rally, in the central state of Chhattisgarh, killing 28 people.
The state party chief Nandkumar Patel, his son, and local leader Mahendra Karma were among those killed in the attack.
Senior Indian Congress party leader Vidya Charan Shukla, who was critically injured in the attack, died in hospital on Tuesday.
Prime Minister Manmohan Singh has described the Maoists as the biggest internal security threat to India.