Why India's main opposition alliance is in disarray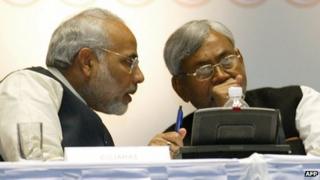 The papers are calling it the end of "a 17-year-old marriage".
As far as political marriages go, the one between the regional Janata Dal (United) and the Hindu nationalist Bharatiya Janata Party (BJP) in Bihar appeared to be rock solid.
With 206 seats between them in the present 243-member assembly, the two parties had an overwhelming majority. The two share 32 of the 40 elected MPs Bihar sends to the lower house of parliament.
Led by JD(U)'s Nitish Kumar, the two-term government was also held up as a model of a constructive, pro-development coalition, which is not easily achieved in the fractious world of Indian politics. The JD(U) was also a key ally of the BJP-led main opposition alliance which goes by the name of National Democratic Alliance.
And now, suddenly, the marriage is over.
Mr Kumar's party pulled out of the alliance on Sunday, rattled over the appointment of Gujarat Chief Minister Narendra Modi as head of the BJP's 2014 election campaign. A precursor, most believe, to his becoming the party's prime ministerial candidate.
Mr Modi is India's most controversial politician whom people like to love or loathe. On the one hand he is credited - some say in exaggeration - with making Gujarat one of India's most prosperous states. On the other hand he's accused of doing little to stop anti-Muslim riots in 2002 which left more than 1,000 dead.
"Secular" parties like JD(U) believe that aligning with Mr Modi's BJP will make them anathema to India's 180 million Muslims, whose votes can swing results in scores of seats. Muslims comprise 17% of Bihar's population. Mr Kumar feels that they will turn against his party if he co-habits with Mr Modi's BJP.
Listen to Mr Kumar's explanation justifying the split and you realise how Mr Modi is becoming a polarising political force even before the election campaign kicks off. Last week, party veteran LK Advani went into a sulk over Mr Modi's elevation, resigned from party posts and took back his resignation after much cajoling by the party.
"The BJP has entered a new era, which will be dominated by just one individual," Mr Kumar told The Times of India, without mentioning Mr Modi by name. "Everybody else has been tamed into submission and has become irrelevant, issues and ideology don't matter."
Strong words indeed, and Mr Kumar doesn't stop there.
He believes the "right to dissent" is being punished, presumably under Mr Modi's leadership in Gujarat and that critics "are being abused". "Is this democracy?" Mr Kumar wonders.
Mr Kumar believes the euphoria in the BJP rank and file over his elevation is "irrational exuberance" and doesn't reflect the public mood. The BJP believe Mr Modi is their best shot at regaining power in Delhi after nearly a decade in the political wilderness.
Time - and India's people - will tell who is right and who is wrong.
But what is clear is that Mr Modi is being seen as a more polarising politician than any of his peers and other leaders in his party.
According to one estimate, in only six out of 28 states and in the capital, Delhi, are elections fought directly between the Congress and the BJP, the two largest political parties in India.
With that in mind this is the question that many are asking: How will Mr Modi be able to attract allies in a fragmented polity?