Mumbai building collapse kills 10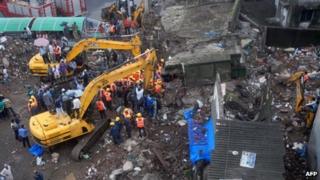 At least 10 people have been killed in the collapse of a building on the outskirts of the Indian city of Mumbai.
Others were trapped in the three-storey building in Thane district, 35km (20 miles) from Mumbai but the rescue is now over. Eight people were injured.
The cause of the collapse in not known, but correspondents say such incidents are common in India and often blamed on poor construction practices.
In April, 74 people were killed in another building collapsed in Thane.
And earlier this month, four people were killed when a five-storey building collapsed in Mumbai.
The latest incident happened early on Friday when the residential building caved in, officials said.
The building was home to nine families and most people were asleep at the time of the collapse, Sandeep Malvi, spokesman for the Thane municipal corporation, told the BBC.
It was not known what caused the collapse, but Mr Malvi said it was an "old building" constructed in 1979 and that rains in the area over the past few days could have caused the incident.
There is huge demand for housing, and corruption often leads to cost-cutting and a lack of safety inspections, correspondents say.
After April's building collapse in Thane, police arrested nine people suspected of colluding to illegally construct the high-rise building.
Those arrested included two builders, police officers and municipality officials.
In a similar collapse in 2010, 69 people were killed in Delhi.