Why an India rape victim disclosed her identity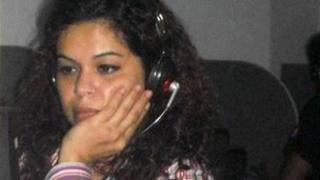 "My name is Suzette Jordan and I don't want to be known any longer as the victim of Calcutta's Park Street rape," she tells me by telephone from the eastern Indian city.
In February 2012, Ms Jordan, a 38-year-old single mother of two girls, left a well-known nightclub on the busy thoroughfare with a man who she had befriended. He had offered her a lift home.
Inside the car, three other men were waiting. Once the car drove off, she says, she was held down by the men and gang-raped.
A fifth man was picked up on the way and also took part in the assault, she adds. Early the next morning, they threw her out of the car.
Ms Jordan reported the crime to both the police and the local media, speaking to journalists with her back to the TV cameras.
The incident caused a furore.
The chief minister of West Bengal, Mamata Banerjee, called Ms Jordan a liar, saying she was trying to make the government look bad, outraging both Calcutta residents and the media.
Despite her efforts to conceal her identity, an angry mob gathered outside Ms Jordan's block of flats soon after Ms Banerjee's remarks. She has also received threatening telephone calls from people asking her to withdraw her case, most recently in April.
Three of the five men Ms Jordan accused of raping her have been arrested and went on trial at a fast-track court in March. They deny the charges. Police are still looking for the other two men, one of whom is the main suspect.
'Tired of hiding'
Ms Jordan has since lived her life as the "Park Street rape victim", as many people have taken to calling her.
She is one of the 68 "anonymous" women who reported being raped in Calcutta in 2012, according to India's National Crime Records Bureau.
India's laws prohibit the disclosure of the identity of a rape victim and those guilty of doing so can be sent to prison for up to two years and fined.
Even the victim of December's fatal gang-rape in Delhi - an incident which sparked international outrage and prompted the government to amend laws relating to rape in India - has not been named publicly.
But, 16 months after she was attacked, Ms Jordan says she is tired of living a life where she could not talk openly about what happened.
"I am tired of hiding my real identity. I am tired of this society's rules and regulations. I am tired of being made to feel ashamed. I am tired of feeling scared because I have been raped. Enough is enough!", she told the BBC.
Hence her decision, earlier this week, to openly tell the world about herself.
Ms Jordan - who began working on a helpline for victims of sexual and domestic violence, called Survivors for Victims of Social Injustice, in April - has two daughters, aged 14 and 17. Over the telephone, she sounds confident, lively and impatient.
She also wants to talk about how her life changed after the incident, and the stigma faced by a victim of rape.
"After the incident, I had to move out from my residence and move elsewhere in the city. Neighbours made it difficult for me to live in that area," she says breathlessly.
"I was made to feel like I was the one responsible for the assault. Because I had come out of the nightclub [with a man], I was made to feel that I invited rape."
"I became a complete nervous wreck. Had it not been for my two daughters, I would have committed suicide," she adds.
Ms Jordan says her decision to reveal her identity was prompted by what she had heard while working for the helpline.
"I felt I was healing, sharing the pain [of other victims]," she explains. "Then I kept hearing about so many rape stories and felt suffocated by the complete silence of the victims, their families and society."
"Recently, I met the family of a rape victim in Calcutta. I thought: 'How long are we going to live with shame of having been raped?'"
That has not changed a few things though. Ms Jordan says she is still scared to go out in dark or visit a nightclub again.
"But I am trying. I am forcing myself to get over the fear. I can't stop living because I am a rape victim."
Ms Jordan speaks of her relief after disclosing her name to the world, and the prospect of not having to live with the tag of the "Park Street rape victim" any longer.
"Don't distort my voice, don't blur my picture," she insists, as I finish recording the interview and ask her to send me her pictures for publication.