India floods: Foreign survivors 'lucky to be alive'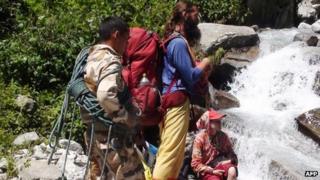 A group of about 40 foreigners, mostly Westerners, were in the Uttarkashi region of the northern Indian state of Uttarakhand when floods struck 13 days ago and a furious torrent of water, mud and rubble hurtled down the Himalayas, destroying everything in its path. The group was practising a form of yoga in a religious retreat and its members were extremely fortunate to have survived. The BBC Hindi's Vineet Khare met them in Haridwar.
Richard Peterson (American)
On Monday 17 June, we woke up in the morning to the announcement that the bridge we had crossed to get to the ashram (religious retreat) had been washed away, that the river was rising and there was talk of evacuation.
The next day, there was a landslide on our side of the river which redirected the course of the river. It was flowing amazingly fast, just 100 yards away from the ashram.
The only inconvenience we faced was a lack of power but we had a small car battery with a solar generator that helped us charge mobiles.
What we saw was the power of nature. It was something to behold. But I never felt any fear. We were meditating seven hours a day.
This would be selfish considering the tragedy to others. But my predominant emotion was disappointment that we would have to leave this beautiful place.
We pray for those who have suffered greatly. I have been inconvenienced, but have not suffered. I have been given great care and attention and I feel safe.
Vishaal Kishore, (British, lives in Australia with wife)
I think we were incredibly lucky. We met so many people who were far more affected and it was unbelievable to see their resilience to the situation and warmth towards us.
These people had lost their homes, their families were not with them, it was an incredible situation for them yet they still had time to cook food for us, come and guide us out from the ashram, cut a path for us and then stand by the road as the bus took us away from the camp.
It's beyond imagination. This is something I will hold very dear.
The only things we have had to watch out for was our own minds and insecurities. There is great sadness around the world over the tragedy here. When we finally reached the town of Haridwar, we were inundated with messages from family and friends.
Olixn Adams (American)
Fortunately, everybody in our group has been fairly healthy. Most of the medical concerns have been very mild.
The day after the flooding, two of us went to the village to see the affected people.
There was a group of 20 people and another of 30. They did not have any injuries. We gave them some medicine.
I saw a school where 30 people, mostly women and children, who had lost their homes had taken shelter. They had very few possessions. They had lost almost everything except some clothes and bedding and about 20 cows.
But they were all very welcoming. They insisted that we sit in their only chairs. And they offered us tea. They were very kind despite their hardships.
There are now concerns about infections because sanitation has become difficult.
Luis Henao (from Colombia but lives in the US)
It hasn't been easy but we have been protected all the time. Thank God we had food all the time.
We belong to the Kriya Yoga organisation and it took good care of us.
We had a miracle. I can show you the pictures taken two days back. It's incredible that the river didn't come towards the ashram. It went to the other side.
It's hard to understand how we survived. Only when you believe in God, you know that is possible. It's been a blessing.
We knew it would be tough but we were confident we will make it. That's the beauty of the divine practice. It gives you calm, peace and confidence. I am grateful to everyone who helped us get out of Uttarkashi.