Boat capsize in India's Bihar kills 11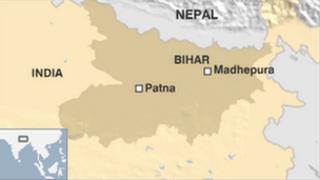 Eleven people have drowned after a boat capsized in the flooded Kosi river in the eastern Indian state of Bihar.
The victims, including eight children, were returning home on Thursday night from a village across the river after attending a funeral, police said.
On Friday morning, grieving relatives gathered on the river bank in Madhepura district, 340km (210 miles) from the state capital, Patna, as rescuers pulled out bodies.
Reports said 24 people swam to safety.
Boats in India are often overloaded, and lax safety standards mean accidents are common on the river.
Last year, 108 people died after a ferry capsized during a storm in Assam.
In October 2010, at least 36 people died after an overloaded boat sank in the Ganges river in Bihar state.
In 2009, a tourist boat carrying 76 people capsized in a lake in Kerala, killing at least 37 people.