India school meal: 'Ghost village' parents mourn dead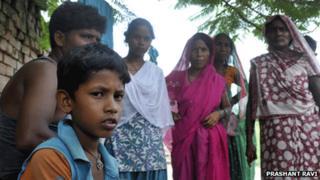 "What will we do now? It would be better if we'd all died."
Terash Prasad works in a shop in Delhi but he is back in the village of Dharmasati Gandaman in India's eastern state of Bihar.
His four-year-old daughter Khusboo Kumari is dead. Another daughter, Roshni, is battling for her life in hospital. His wife, Renu Devi, is unconscious and being administered saline.
All had eaten a tainted free school meal that has cost the lives of more than 20 children.
"Now this has become a ghost village," says Mr Prasad.
Some 48 hours after the incident, he and other villagers say that no-one from the government, not a single doctor nor policeman, has visited the village to check on their condition.
First taste
Nine-year-old Sujit Kumar says he won't go back to his old school and will never eat another of the Indian government's free mid-day meals.
He lost four of his friends after the soybean, vegetable and rice meal was served on Tuesday.
More than 30 others are still being treated in hospital in the state capital, Patna.
Among them is Sujit's 11-year-old sister Pinki Kumari. Their father, Chandra Mahto, a labourer in Patna, is at the hospital.
Sujit had started eating the meal but found the taste bitter and took it home for his goat.
When the goat fell sick, Sujit alerted his mother and other villagers about the food.
Parents rushed to the school, carrying their children to the local health centre on motorcycles.
Two students died quickly and the condition of the rest became serious.
Sujit's friend, Chandan Kumar, who studies with him at the school, says he too was lucky to survive. He vomited the food after the first taste.
Chandan's father, Harikishore Mahto, and mother, Sarswati Devi, said they had given thanks to Dharmasati - the deity after which the village is named - for his survival.
Parents' anger
The school, which opened in 2010, has 125 students.
There is just one room for classes - a 250 sq ft hall in what is a community centre. Of the 73,000 primary schools in Bihar state, more than 8,000 have no building of their own.
It is a Spartan room - no ceiling fan, no light bulb, no toilet.
Some books, a pencil, a ballpoint pen, a few plastic bags and aluminium food plates lie strewn about.
There are three broken windows and a faded blackboard. There is just one hand-pump for drinking water.
Outside, there are plastic chairs and a table that have been smashed by angry parents.
There is no kitchen for the school meal.
The food was prepared outside on the veranda in a makeshift earthen burner which, too, has been demolished by the villagers.
Also outside the school now lie the bodies of three students - buried on the campus. Sixteen more are interred around a small pond opposite the school.
No trace
There are two private schools in the Dharmasati Gandaman to cater for the more affluent.
But this is a government school and almost all the students are from poorer families.
It had just two teachers, including principal Meena Kumari, who has disappeared.
As the other teacher, Kalpana Devi, is on maternity leave, the principal was running the school on her own. There are no other staff.
The house of the principal is locked. There is no trace of her or her family.
A complaint of negligence has been lodged against her at the nearby police station in Masrakh and she has been suspended by the education department.
There were two cooks, Manju Devi and Pano Devi, to prepare the mid-day meal for the students.
Pano Devi was on a religious fast and did not eat the meal, but Manju Devi ate it, as did some of her young relatives.
Her niece, Mamta Kumari, died and seven more family members fell ill. Manju Devi is also in hospital.
Her father-in-law, Rangeela Prasad Yadav, sits on a plastic chair and rages at the government.
"The school called the students to their death. They served a meal not for their survival but for their death," he says.
Villagers still surround the school building.
They watch a goat and two crows that ate the food after it was dumped behind the school. The crows gasp for breath and are unable to fly.
"They will not survive," says villager Suman Kumar.