India students beat Bihar teachers over school lunches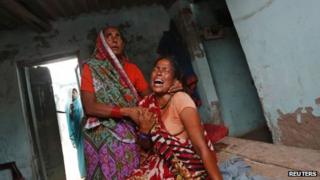 Students from a government-run school in India's Bihar state have beaten up their teachers in protest at what they say is the poor quality of their lunch.
The violence in Nawada district came days after 23 children died from eating a school meal elsewhere in the state.
More than 100 students from a school in Bhikhampur village visited a government office to protest against the quality of the Mid-Day meal.
The teachers were assaulted when they came to give their side of the story.
On Tuesday, 47 primary school children in the village of Dharmasati Gandaman in Saran district fell ill after consuming the contaminated meal of rice and soybeans.
Twenty-three died and many others are still in hospital.
A chemical used in pesticides is a possible cause of contamination. The results of forensic tests are expected from a laboratory in the state.
The Mid-Day meal scheme provides free food for students, but often suffers poor hygiene.
It was introduced to combat hunger and boost school attendance, and reaches 120 million children in 1.2 million schools across the country, according to the government.
'Shirts torn'
In Friday's incident, more than 100 students, carrying placards and shouting slogans, gathered outside the office of the Nawada district magistrate, journalist Amarnath Tewary reports from the state capital, Patna.
When their school teachers arrived to present their case before the official, the students surrounded them and assaulted them.
An eyewitness, Ashok Priyadarshi, told the BBC that angry students tore the shirts of the teachers and heckled them.
The teachers managed to free themselves and fled, he said.
Nawada district magistrate Aadesh Titarmare said he was aware of the incident but did not have details.
Emotions have been running high in Bihar since Tuesday's tragedy, with angry parents demanding tough action against those responsible for contaminating the school meal served in Dharmasati Gandaman.
Nineteen of the children have been buried in and around the school grounds - families say they want the graves to serve as a reminder that the children died due to state negligence.